Here in the UK where sadly the sun does not always shine, the option of solar panels to entirely replace your gas boiler isn't a practical one unless you don't mind shivering in the winter months. Most likely you'll be considering Solar Heating to supply summer hot water and occasional heating, or for specific requirements such as heating a swimming pool.
In most situations Ground Source and Air Source Heat Pumps provide a much more robust heat source for 365 days a year, providing heating and hot water supply.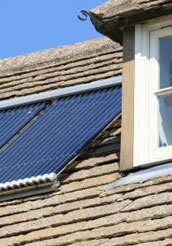 Consultancy Service
For domestic customers we offer an entirely free consultation service. This is designed to let you know the practicalities of installing a renewable energy system and the timescales involved between the cost of installation, and the cost savings you will gain over time once the system is in place.
For commercial customers or property developers working new-build projects, our initial consultation is free of charge and this will assess the suitability of a renewable energy solution.
From there Envirowarm will work with your architect and specifier to formulate the solution that meets your needs and budget.
Solar Heating
Solar radiation is a constant energy flow emitted by the sun equally in all directions. This solar energy can be exploited by Solar Thermal Domestic Hot Water (DHW) systems that offer the potential for savings, whilst at the same time making a valuable contribution to the protection of the earth's resources and the environment.
A correctly designed domestic Solar Thermal system can save approximately 60% of the annual energy demand required for hot water in the average home.
In larger commercial premises the savings will vary depending on the nature of the building and it's purpose but increasingly UK businesses and property developers are turning to Solar Power as a practical efficient heating solution, and not simply a 'green' one.
Heat Pumps

A heat pump extracts the low temperature renewable energy from the air or from the ground and increases its temperature for domestic or commercial heating purposes.
Heat pump efficiencies are normally quoted as the coefficient of performance of the system ie: the difference between the electrical energy the heat pump consumes, compared to the heat energy it generates.
A heat pump will typically have a coefficient of 3 to 5, so in other words extracting heat from renewable sources requires just 1kW of electrical input in order to generate 3kW to 5kW of heating output - making the heat pump up 3 to 5 times more efficient than a typical fossil fuel boiler and more than capable of warming a house completely, even during the lowest winter temperatures. The increasing popularity of these heating systems is reflected by their overwhelmingly successful application in the cold climates of Scandinavia.
There are two basic types of Heat Pump; Air Source and Ground Source and whilst they have some different characteristics, their suitability usually depends on the physical layout of your property over most other things. For example a ground source system needs land and space to operate in, whereas an air source system does not. For more information the fact sheets below will provide basic details on how these systems work. But don't forget we offer a free no-obligation consultation service.